Rude Mechanicals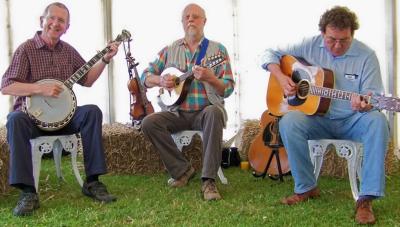 Highly versatile multi-instrumentalists performing a wide range of music including traditional folk-dance tunes, contemporary material and miscellaneous musical indulgences.

The Rude Mechanicals, based in Shoreham, Sussex, are Barry Ruffell and Ray Chandler as a duo, often joined by Jeremy Sherman to form a trio. For special occasions they are augmented by other musical pals to form the Rude Mechanicals Occasional Orchestra. Instruments deployed can include fiddle, concertina, guitar, banjo, flute, whistle, piccolo, mandolin, mandola, bodhran, pipes and trombone - to name just a few!

Their musical style is informal, their repertoire extensive and adaptable, and their playing and singing highly distinctive.

Equally at home playing for receptions, business events, in folk clubs, bars, festivals, concerts and private functions. Acoustic or amplified as required.

A CD is available as well as a pair of tune books covering 88 tunes in total.

For more information, appearances, pictures, sound samples, tune archives and other material see the website of the Rude Mechanicals.


Shoreham Concerts 2014 Sunday 20th July: 6.0 p.m. (approx.) The Rude Mechanicals, Folk by the Water, Bridge Inn

Sunday, 3rd August: 6.00 p.m. The Rude Mechanicals and friends: The Duke of Wellington

Monday 25th August: The Rude Mechanicals, Riverfest

Thursday 28th August: Concert by renowned Swedish trio, Väsen: Ropetackle Arts Centre


Kicking Up A Shindig In Church 12 noon, Saturday, November 15th, 2014
St Mary's Church, Shoreham

Lunchtime concert
by the Rude Mechanicals Occasional Orchestra.

Entrance free with retiring collection. (Part of the Adur Arts Live festival.)